Kotagede night food tour is all about exploring hidden culinary gems with local foodies at the most charming historic district in Yogyakarta. Being the oldest district of Yogyakarta Sultanate, Kotagede is the witness of Yogyakarta's history that today becomes the charming historic suburb of Yogyakarta in Central Java. Although Kotagede is no longer to be the royal capital of Yogyakarta, Kotagede still remains to be a lively atmospheric and charming district.
As the charming historic district of Yogyakarta, not only that Kotagede holds a historical places such as the royal cemetery, ancient mosques, and traditional wooden houses, but also a wonderful night time food tour that will enrich your historical insight related to the Islamic Mataram Kingdom as you trace back the history of the glorious root of Mataram Kingdom along with a complete Kotagede night food tour.
It is easy to wander around Kotagede, such as to soak up along with the atmosphere at the regal ruins or at the traditional market that is known as pasar Kotagede or Kotagede market – a traditional market that sits at the heart of the old town. Kotagede market used to be the melting pot of traders and buyers with different cultural, racial, and ethnical backgrounds. The day market (pasar legi) opens at 5.00 AM but not every day. Fruits, vegetables, traditional snacks, and spices are what the stalls spill out into their space. While the night street food sellers open from 4.00 PM that offers plenty of other traditional delicacies where foodies can spoil their appetite.
Kotagede is a hidden culinary gem in Yogyakarta, there are numerous of mouth-watering delicacies that could not be found anywhere else but the old town of Yogyakarta such as the legendary sate karang, a unique dish made out of beef, with a curry-like sayur tempe, also topped with a selection of peanut sauce, soy sauce, and also sambal kocor which has a sweet and soury taste and the sweet jenang gempol that is made out of a rice flour. With Good Indonesian Food tour, you will discover a full local taste of Kotagede, and you will taste every single specialities that Kotagede has to offer that represent the taste of ancient Yogyakarta, including their kopi rempah. Thus, it makes Kotagede the best night food tour when visiting the oldest district of Yogyakarta.
An adventure of Kotagede night food tour is perfect for you who like to walk around the historical old town in the oldest living district while indulging yourself with various irresistible delicacies that could not be found anywhere else. And if you're a history buff and a foodie, Kotagede food tour is for you to explore along with Good Indonesian Food.
Inclusions
Food tasting at 4 places (more than enough to make you full)
Small group capacity (maximum 8 people per guide)
- Professional local Foodie Buddy (English speaking)
Exclusions
Other entrance fees and expenses such as other meals, drinks, and shopping unless otherwise stated
Alcoholic drinks
Tips and gratuities
Hotel pick up and drop off
Experience:
Curation of authentic local food
Everyday local lifestyle
Street food adventure
Food story
Night market exploration
Menu Overview:
Javanese porridge
Javanese herbal coffee
Beef satay with rice cake
Javanese noodle soup
Traditional Javanese cake
Additional info:
Children must be accompanied by an adult
Not accessible by wheelchair
Wear comfortable and relax clothing
Please inform us for any food restriction
Monday to Sunday
6pm to 9 pm
Pendhopo Nde Luweh
Jl. Ngeksigondo No.54, Prenggan, Kec. Kotagede, Kota Yogyakarta, Daerah Istimewa Yogyakarta 55172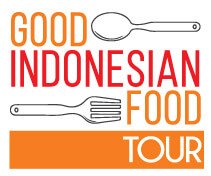 Good Indonesian Food Tour
Explore Indonesian food heritage and experience our authentic culture with Good Indonesian Food Tour, the leading gastronomic activities provider.
Our Foodie Buddy will take you for eateries hopping, traditional market exploration, cooking class, visiting rice field and coffee plantations, eat with locals and many more food centric activities.