Street food has become part of Jakarta's lifestyle from years. In fact, street food was the starting point of development Jakarta's modern dining scene. It is often modern restaurants obtain inspiration of their menu from street food vendor, who have mastered their recipe for years. Aside from home cooking, street food is also the best place to experience Indonesia's authentic dining. In this food walking tour with Good Indonesian Food, we will take you to one of the most popular street food scenes in south Jakarta for years. Enjoy the beautiful taste of the archipelago, from Sumatra, Java to Madura.
Itinerary :
• Start the tour with coffee at one of Jakarta's well-known local coffeeshop.
• Taste the best of the Indonesian Javanese Food – Lesehan style.
• Indulge your taste bud with one of the best beef rendang in town.
• Enjoy legendary street food style of satay
• End the tour with tasting the all delicious martabak
Inclusions :
• 4-5 types of foods and beverages (more than enough to make you full)
• Small group capacity (max 8 people per guide)
• Professional local Foodie Buddy (English speaking)
Exclusions :
• Other entrance fees and expenses such as other meals, drinks, and shopping unless otherwise stated
• Hotel pick up and drop off
• Tips and gratuities
• Alcoholic drinks (Available to purchase)
Experience :
•Curation of Authentic Local Food
•Street Food Adventure
•Everyday Local Lifestyle
•Food Story
•Bajaj Ride
Monday to Sunday
6.30 pm to 9 pm
Filosofi Kopi Jl. Melawai 6 Kawasan Terpadu Blok M Square, RT.3/RW.1, Melawai, Kby. Baru, Kota Jakarta Selatan, Jakarta 12160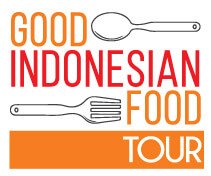 Good Indonesian Food
Explore Indonesian food heritage and experience our authentic culture with Good Indonesian Food Tour, the leading gastronomic activities provider.
Our Foodie Buddy will take you for eateries hopping, traditional market exploration, cooking class, visiting rice field and coffee plantations, eat with locals and many more food centric activities