The lively Pasar Baru was built in 1820. Located in the Central of Jakarta, Pasar Baru is home to a smelting of Indonesian, Chinese, Dutch colonial and Indian cultures and heaven to those who wants to experience the old Jakarta with Pasar Baru Foodie Tour. As the oldest shopping district in Jakarta where it lined with numbers of shops and well-known with their textile business market, Pasar Baru also offers tons of delicious foods you should try for your Pasar Baru foodie tour experience.
Until this present day, Pasar Baru still holds its glorious past, including their gastronomy. Good Indonesian Food Pasar Baru Foodie Tour will take you to a market full of the best historical culinary and let you indulge yourself with the phenomenal Pasar Baru eateries.
Your foodie tour at an Indian-influenced place won't be complete without tasting the food. We offer you to taste Indian delicacies, from Briyani Rice, Butter Chicken, Tikka Masala, until Samosa. You must expect the fineness of the Indian dish while on your Pasar Baru Foodie Tour.
Pasar Baru Foodie Tour knows when it's time for dessert, and we will bring you back to the good-old time with the best legendary ice cream place in Pasar Baru. The soft and milky ice cream will definitely satisfy your sweet tooth during your toothsome foodie tour around Pasar Baru.
As you walk through Pasar Baru, you will also notice some strong Chinese influence around. Therefore, tasting noodle is something you should not missed on your Pasar Baru foodie tour. Along with noodle, we will try also some other well-known Chinese culinary heritage such as speciality dishes such as Sui Kiauw – a boiled dumplings, fish meatballs, and fried meetballs are the all-time favourite cuisines.
Other things not to be missed is to explore the street food cart vendors. Those small food cartsl located in Pasar will make your Pasar Baru foodie tour the best culinary adventure. Have a try of Chinese crueller doughnut or what we called by Cakwe in Bahasa Indonesia. Crisp on the outside and soft on the inside makes the best Cakwe in town.
Last but not least, a trip with Pasar Baru foodie tour will take you to perfect place for foodies to try out the best traditional Acehnese dishes while in Pasar Baru. We will introduce you to the richness of spices and flavour of Acehnese dishes with their specialities such as Gulai Kepala Ikan, Green Sambal and Fried Pigeon.
Pasar Baru foodie tour will not only bring your appetite all around Pasar Baru with tasting street eats to restaurant grub, but will also take you to historical sites in Pasar Baru. Pasar Baru foodie tour will bring you to Klenteng Sin Tek Bio that has been age hundreds of years. Toko Kompak, the oldest pagoda in Jakarta. And Pniel Church, an antique church building that is also well known as the chicken church. This Pasar Baru foodie tour is a must do for a foodie as you can learn all about historic foods and buildings in Pasar Baru.
Menu overview
Indian influenced cuisine: curry, bread, rice
Chinese influenced cuisine: noodle and wonton
Oldies style ice cream
Snacks from street food vendors
Acehnese cuisine from fish head curry to Punai bird
Inclusions
Large portion of tasting menu at 5 different eateries
Small group capacity (maximum 8 people per guide)
Professional Local Foodie Buddy (English and Indonesian speaking)
Exclusions
Other entrance fees and expenses such as other meals, drinks, and shopping unless otherwise stated.
Alcohol drinks
Hotel transfer
Tips and gratuities
Additional info:
Children must be accompanied by an adult
Wear comfortable and relax clothing
Please inform us for any food restriction
EXPERIENCE:
Curation of authentic local food
Everyday local lifestyle
Street food adventure
Food story
Old and historical architecture
Monday to Sunday
11am to 2.30pm
Passer Baroe Gate
l. Ps. Baru, RT.15/RW.4, Ps. Baru, Kecamatan Sawah Besar, Kota Jakarta Pusat, Daerah Khusus Ibukota Jakarta 10710
https://goo.gl/maps/gmy1qxNVN3wff64fA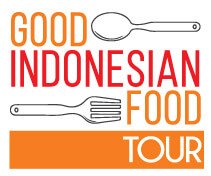 Good Indonesian Food
Explore Indonesian food heritage and experience our authentic culture with Good Indonesian Food Tour, the leading gastronomic activities provider.
Our Foodie Buddy will take you for eateries hopping, traditional market exploration, cooking class, visiting rice field and coffee plantations, eat with locals and many more food centric activities.