Prawirotaman Night Food Tour is a perfect way to enjoy local culinary heritage with local foodies at Yogyakarta's hippest melting pot. Located around five kilometres from the centre of Yogyakarta, Prawirotaman has been playing a big role to the history of Yogyakarta - Prawirotaman began to be known in the ninth century that was once functioned as soldiers' concentration point. But during the post-independence period, Prawirotaman was renowned for its batik production. Not only known to be the kampong batik, today Prawirotaman is popular to be the kampong tourist. And up until these days, Prawirotaman is considered to be the central tourist village in Yogyakarta and is the second favourite destination after Malioboro Street in Yogyakarta.
Popular amongst the tourists, Prawirotaman Street could be an alternative for those who are looking for place to stay - there are not just only special accommodations with cheap prices, but likewise art shops, book shops, and local stores, and cafes could be a different excursion as well. Although Prawirotaman is very popular amongst the tourists, there are as well some hidden culinary gems that not so many people know, of that Good Indonesian Food will take you to every crane and nook of it. And being the melting pot between modern and traditional food as well as international and local food, Prawirotaman is the best hideout of the diverse Yogyakarta's culinary. However lately the local food is less well known by travelers, so best is get accompanied by the locals to taste best of the best.
Cafes in Prawirotaman Street offers both traditional Javanese food as well as European and other Western food, such as pizza or gelato, and even a perfect combination of both Indonesian and European food, such as an Italian Gelato that serves a tasty variant of local taste. And with the diverse culinary scene in Prawirotaman, there is no doubt that Prawirotaman Street attracts both locals' and tourists' heart.
Good Indonesian Food has arrange a full night food tour at Prawirotaman and take you to explore all the interesting parts of the region like no other. From letting you taste the legendary local culinary place such as that has been established for more than twenty years as well as an authentic Javanese restaurant where rawon, gado-gado and soto is their recommendation that has a sweet taste that is found in the Javanese food to taking a sip of local coffee - you will have a pleasant night food tour at Prawirotaman Street
Inclusions
Food tasting at 4 places (small to medium portions that will be more than enough to make you full)
Small group capacity (maximum 8 people per group)
Professional local Foodie Buddy (English speaking
Exclusions
Other entrance fees and expenses such as other meals, drinks, and shopping unless otherwise stated
Tips and gratuities
Hotel pick up and drop off
Alcoholic drinks (available to purchase)
Experience:
Curation of local and international food
Everyday local lifestyle
Street food adventure
Menu Overview:
Indonesian Coffee
Nasi Gudeg (sweet jackfruit cooked in palm sugar)
Javanese beef black soup
Indonesian Gelato
Additional info:
Children must be accompanied by an adult
Not accessible by wheelchair
Wear comfortable and relax clothing
Please inform us for any food restriction
Vegan and vegetarian option available
Monday to Sunday
6pm to 9 pm
Gudeg Bu Tatik Prawirotaman
Jl. Parangtritis No.80, Mantrijeron, Kec. Mantrijeron, Kota Yogyakarta, Daerah Istimewa Yogyakarta 55143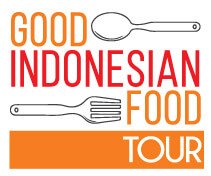 Good Indonesian Food Tour
Explore Indonesian food heritage and experience our authentic culture with Good Indonesian Food Tour, the leading gastronomic activities provider.
Our Foodie Buddy will take you for eateries hopping, traditional market exploration, cooking class, visiting rice field and coffee plantations, eat with locals and many more food centric activities.