As a city with a very long history, Yogyakarta has various cultural elements inside of it. Beginning from a mixture of religions and Javanese beliefs until the kingdoms crossed and created a republic. All of them united perfectly and made a culture that is unique, mirrored in the everyday life of locals.
Good Indonesian Food will be taking you to have the best experience in Yogyakarta through its wide array culinary heritage. Enjoy the traditional Yogyakarta breakfast menus with the best nasi gudeg as we venture through the traditional market of Bringharjo and explore the variety of long working traditional food vendors and try the many foods you can find there, and don't forget to interact with our locals as you are in the market! You can also enjoy the fun experience of traveling with the traditional transportation of Yogyakarta. Everything we are presenting in this tour has its own unique characteristic and story in every spot and dish.
Itinerary
Editor's pick Nasi Gudeg (sweet jackfruit cooked in palm sugar)
Street food style fried snacks
Javanese sweet coconut milk ice drink
Traditional Javanese beef jerky
Special juicy satay that is only available in Yogyakarta
Javanese salad with basil peanut sauce
Exotic dessert at aristocratic place
Inclusions
5-6 types of foods and beverages (small to medium portions that will be more than enough to make you full)
Small group capacity (maximum 8 people per group)
Professional local Foodie Buddy (English speaking)
Exclusions
Other entrance fees and expenses such as other meals, drinks, and shopping unless otherwise stated
Tips and gratuities
Hotel pick up and drop off
Alcoholic drinks (available to purchase)
Additional info
Children must be accompanied by an adult
Not accessible by wheelchair
Wear comfortable and relax clothing
Please inform us for any food restriction
Vegan and vegetarian option available
EXPERIENCE:
Curation of authentic local food
Street food experience
Everyday local lifestyle
Cultural & heritage sites
Food story
Traditional market visit
Becak ride
Monday to Sunday
9am to 1pm
Tugu Yogyakarta
Jalan Jendral Sudirman, Gowongan, Jetis, Kota Yogyakarta, Daerah Istimewa Yogyakarta 55233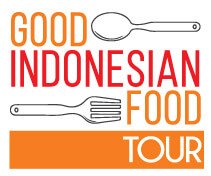 Good Indonesian Food Tour
Explore Indonesian food heritage and experience our authentic culture with Good Indonesian Food Tour, the leading gastronomic activities provider.
Our Foodie Buddy will take you for eateries hopping, traditional market exploration, cooking class, visiting rice field and coffee plantations, eat with locals and many more food centric activities.